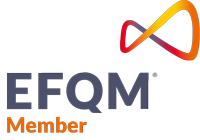 "Excellent Organisations achieve and sustain outstanding levels of performance that meet or exceed the expectations of all their stakeholders."
The model is based on the experiences and behaviours of companies and organisations, that are viewed as exemplary by peers and others. From the found commonalities a set of typical behaviours and characteristics are extracted, that are the converted to an easy structure and simple rule sets.
EFQM as a Management Tool
For more than 25 years the EFQM Model is used as a tool to describe and evaluate excellent organisations.  By  careful analysis of model organisations a large selection of best practices has been extracted. Those can now be used as a guidance for other organisations that have started their journey to excellence. The legal form or size of an organisation does not play a role at all for pursuing the path to excellence. The model can be successfully applied to small and medium size enterprises as well as large multinationals companies. This holds true for public sector and not-for-profit organisations as well as private enterprises.
Enabler Criteria
The model starts with five so called Enablers found in the organisations, that form the basis for the performance, product or service offerings for customers, employees, society, and all other stakeholders of the organisation:
Leadership: an accountable leadership, acting as a role model, who have worked out a clear vision and mission for the organisation, are taking care themselves for the needs of their customers, partners, employees, or society, and who are creating a productive and innovative environment.
a strategy that is developed and implemented based on the full understanding of the needs and expectations of internal and external stakeholders.
Employees, that understand this strategy and transform this through their work into relevant products, fully supported by their leaders
Partners and suppliers, that are integrated into the internal processes and product development. Finances and other resources that are responsibly managed and used.
and finally the process oriented area of products, including their development, production, marketing, promotion, and delivery, as well as the close linkage to customers.
Results  Criteria
Success is measured according to four aspects. Here the perception of all the stakeholders as well as hard facts are taken into account. The results will be measured against own aspirations from target settings, trends and comparison to adequate benchmarks.
Employee results and perceptions
Customer satisfaction and perception and performance indicators
Impact of the organisation on their environment in the direct community and the society at large
Performance indicators and outcomes that are of key relevance for the organisation (Key Business Results)
The maturity of an organisation on its journey to excellence is reflected onto eight fundamental concepts and its ability to systematically understand the relationship between the enablers and results in order to use those for the further development of their organisations (RADAR principle).
bmbg consult has conducted EFQM based projects in the following sectors:
bmbg consult can bring in experience for EFQM based projects in the following aspects:
Patent Transfer & Licensing
Organisation of Conferences
Non-for-Profit Organisations
We work together with our European wide partners that are experts in their respective fields.