Strategy and Business Management

Many entrepreneurs of small and medium sized enterprises (SME) have a very clear understanding of the required quality of their products and how to successfully position them on the market. Full order books prove the acceptance of their customers. However, how does the future planning look like? Quite often, the daily business does not leave sufficient time to adapt to changed market conditions, think about enhanced regional market coverage or the introduction of new products. Questions related to certification and digitization come in addition. What do Industrie 4.0, Big Data, or Internet of Things mean for an SME. Are those relevant topics with business opportunities for the enterprise or just catch phrases?
If you have asked yourself such or related questions and have not found adequate answers for your enterprise, then you have just found the right place with us. We can help to analyze your company and your capabilities to adjust to changing requirements, and help you to find the right solutions.
For SMEs in Saxony and Thuringia we can offer you a consulting service which may be funded by these local governments (for details see page SME consulting).
Consulting Expertise based on the EFQM Excellence Model:
We are looking back on more than 20 years of experience in public research organizations and 15 years of high-tech companies
There, we have formed new groups, changed and simplified processes, restructures complete divisions, and always with the clear goal in mind to improve the situations for all stakeholders.
Based on 6 years of work with the excellence model of EFQM we now make us of the capabilities of this model and its related tools to now only run a complete analysis of an organization but also to clearly identify improvement potentials.
Business Management at the Excellence Level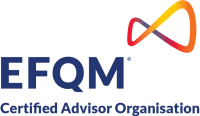 As an EFQM Certified Advisor we are the right partner for you to start the journey to excellent management of your organization. Using the principals of the EFQM Model, we will help you to introduce a holistic and well balanced management system, that some of the best companies and organizations in Europe are using for more than 25 years. We take you step-by-step onto the different excellence levels and help in the preparation of assessments or conduct them on your site.
On the highest level you may apply with your organization for the European Excellence Award. Since 2011 we are participating as an Assessor for this Award and therefore have a deep insight into the required qualifications.
If you are interested establishing this know-how for your own organization, we can help you find the right training, or train and certify you and your employees ourselves.
DEVELOP EXCELLENCE. TOGETHER.
Our Goal:
Excellence as the basis for any economic activity in proper balance with fundamental values. We help you in your quest to balance a healthy growth supporting needs and expectations of all your stakeholders with excellent and sustainable results.